RUN TEAM
SERIOUS RUNNERS ONLY PLEASE  – We are assembling a small group (25 maximum), of active or former military personnel or dedicated athletes to comprise a core team of runners committed to a 2 day 100 plus mile tribute run from Owensboro to Hopkinsville Kentucky. Run will begin around 6:00 am from the Charles E. Shelton memorial located along the riverfront in Downtown Owensboro. The run has a specific timetable for each marker throughout each day. Runners need to be flexible, willing to run on any given day and when needed. RAIN OR SHINE.
Runners will run 2 mile legs for every Kentucky fallen military hero who died while serving during the current war on terror, stopping to salute and give tribute by name at every Hero Marker, briefly greeting family, friends and comrades who may be waiting nearby. Stopping no longer than 90 seconds each.
Each runner must be physically capable of a consistent 8-9 minute mile for 2 mile legs. Core teams will rotate every hour over the 2-day period. We are not looking for quantity of runners but a solid team dedicated to the remembrance of those who gave their lives and their families. This route will be grueling at times because the trail winds through many hilly areas of western Kentucky and a specific pace must be maintained in order to greet waiting families.
If you are interested in becoming a part of our core team or desiring to run any of the 100 plus mile distance, contact us at,
kentucky@runforthefallen.org or fill out our waiver and send it to us: Run for the Fallen-Waiver 2019

CLICK HERE TO SPONSOR A RUNNER
DONATE VOLUNTEER SIGN UP TO RUN
Meet This Year's KENTUCKY
CORE RUN TEAM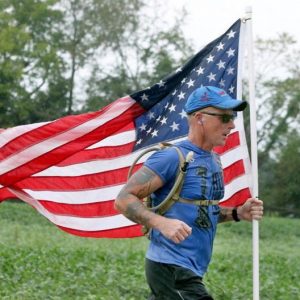 CHRIS CONLEY:  Core Runner Captain.  US Army Veteran, Airborne Infantry (1988-1996) spending most of my time jumping out of various flying machines.  Proudly served with the 101st Airborne Division during Desert Shield/Storm with the Rakkasan's 3-187 Inf.  RFTF Core Runner since 2019..  I'm originally from Lexington, Kentucky but after life in the military I needed something a little slower.  I'm proud to call Owensboro and western Kentucky my home.  Running for these Fallen Heroes and Gold Star Families is the very least I can do to honor their sacrifice.  I try to do that everyday I run.  If I'm not working you can usually find me on the running trails.  Having the ability to run for this mission is a blessing and a gift.